Schiller to lead keynote speech at Apple's WWDC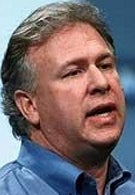 Apple announced today that the company's senior vice president of World Wide Product Marketing, Philip Schiller, will lead a group of executives in giving the keynote speech to kick off the annual WWDC June 8th at 10am PDT. The conference will feature in-depth sessions on both the iPhone 3G OS 3.0 and the Mac OS X Snow Leopard. Other sessions will cover ways that developers can offer applications that get the most out of the touchscreen device's 3.0 SDK and the 1,000 new API's available for the iPhone 3G 3.0.
The June WWDC keystone address has been the launching pad for iPhone related news in the past. In 2007, Steve Jobs introduced the iPhone. The following year, the iPhone 3G was trotted out to face the public. If a new iPhone is to be introduced in 2009, you would expect an announcement to be made during this year's address. With CEO Jobs not expected back until the end of next month, it will probably be up to Schiller to make an introduction of any new iPhone product.
source:
Apple
(WWDC),
EngadgetMobile
(iPhone 3G)