Schiller: "Can't innovate any more my arse"
38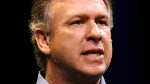 Just because Apple is a huge corporation doesn't mean that employees from the guy cleaning the trash cans to the executives at the top aren't hurt by criticism. Over the last year, Apple has been criticized for losing its ability to be innovative with many pointing to the introduction of the first
Apple iPad
back in 2010 as the last time Apple changed the world.
Of course, some of this has come about because of the
high expectations
placed on the company. Just like Miami Heat fans expect a triple-double from LeBron James every night, tech pundits expect Apple to introduce a game changing device every month and when it doesn't deliver one, rumors spread that Apple has lost its mojo.
During the introduction of the new Mac Pro at WWDC on Monday, Phil Schiller, Apple's Senior VP in charge of worldwide marketing, bellowed out, "Can't innovate any more my arse!" Nice to see that Apple executives as busy as Schiller must be are keeping up on what the media and the public are thinking about Apple. Of course, the huge drop in the price of the stock probably affects the wallets of many executives in Cupertino and getting the shares to do a 180 degree change is probably on the minds of top Apple brass.
With options and deferred holdings, each $1 move in the stock price could represent a huge change in the fortunes of Apple executives. Which is probably why someone high on the Apple depth charts like Phil Schiller talked about innovation returning to Apple.
source:
Pocketlint
Recommended Stories