Say hello to cheap Froyo - Huawei announces Ideos, an affordable Android 2.2 smartphone
1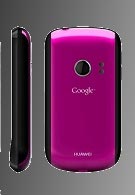 Remember that
low-end assault that Google had in store for Android
, plotting with LG and Huawei? Well, one of its representatives just got announced by Huawei, the Chinese electronics conglomerate. Slated for release almost everywhere on the globe, the Huawei Ideos packs Android 2.2 out of the gate, and has a 2.8" QVGA capacitive touchscreen.
While the phone is nothing fancy in terms of design and raw CPU power (528MHz), Huawei claims it has worked in close cooperation with Google on the Ideos, so as to insure the smoothest stock Froyo experience possible. The handset packs 512MB ROM/256MB RAM, and has a 3MP camera.
It is fairly chubby at 0.53" (13.5mm), but will come in a variety of flashy colors for all the GSM and UMTS/HSDPA bands you can imagine. Thus the US might easily be seeing it on AT&T or T-Mobile, since it recently hit the FCC. It has Wi-Fi n, and doubles as a mobile hotspot for up to eight devices.
The magic number here appears to be 200 (pounds, euros, dollars), as from prices floating around it seems that the Ideos won't probably jump over that threshold in any country, making it an extremely affordable off-contract Froyo handset. Huawei claims that, since it has been working closely with Google on the handset, it will be promptly OTA updated to the new Android versions when they roll out.
source:
Pocket-Lint