Sanjay Jha's 2011 pay amounts to $47 million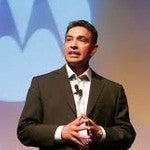 Ah, the life of a CEO. Departing Motorola Mobility CEO Sanjay Jha increased his pay package
by a factor of nearly 5 times last year to $47 million
. Imagine what Mr. Jha might have received had the company not lost $80 million in last year's fourth quarter alone. Motorola Mobility agreed to be acquired by Google for $12.5 billion after spinning off from Motorola last year. The company said
the successful spinoff was the reason for the increase in Jha's paycheck
from the $10 million he earned in 2010. Jha's pay both years was bolstered by the inclusion of options awards which were extremely lucrative considering Google's deal to purchase all of Motorola Mobility's shares.
Google's purchase of the company is expected to close later this year and is
being held up by the Chinese government
which is extending its review of the purchase.
U.S.
and
European
regulators have already given the green light to the acquisition. Google and Motorola are said to be
working closely with Chinese regulators
to get the deal approved.
Motorola Mobility has scheduled its annual meeting for June 4th, but the meeting could be canceled if the deal with Google closes before then. According to a report by Bloomberg back in February, long time Google employee
Dennis Woodside has been tapped to replace Jha as CEO
. Google has said that it wants Motorola Mobility to remain independent.
source:
Reuters