Google-Motorola merger approved by the EU Commission
13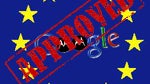 As we
reported
last week, the EU today approved Google's acquisition of Motorola. No concessions were asked for from Google, although the EU did warn that it would be keeping an eye on the newly-formed Googerola, and the rest of the enthusiastically-litigious mobile industry. The EU Commission was expected to allow the merger, since several other key players also control hardware and software on their mobile platforms, including RIM, Nokia, and Apple. That was indeed their finding, as the EU said, "
The Commission approved the transaction mainly because it would not significantly modify the market situation in respect of operating systems and patents for these devices.
"
While there are no true concessions required, it would be premature to say that approval came with no strings attach. The Commission made a strict warning that it would be watching all players in the mobile space, as it has grown concerned over "the increasingly strategic use of patents."
Nor did the EU Commission stop at a general warning; the official press release contains an entire section of FRAND law concerns, citing the explicit laws and expectations of FRAND patent holders. Not only does Motorola Mobility own many FRAND patents, they are currently using some in their
ongoing legal dispute
with Apple. Samsung, who has been even more aggressive with FRAND patents, recently found themselves on
the wrong end
of an investigation into anti-competitive practices in Europe.
The U.S. Department of Justice is expected to
also approve
the merger this week, leaving China, Israel, and Taiwan to approve the deal before it can officially close.
source:
Europa
;
Google
via
The Verge