Samsung's next smartwatch will also feature NFC and mobile payments
59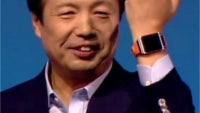 It was only a couple of weeks ago, when Samsung announced its latest and greatest smartwatch – the Gear S, which
brings independence to the world of wearable gadgets
, with its own 3G and Wi-Fi capabilities. Future customers are already eager to get their hands on the yet unreleased timepiece, all the while Samsung is already at work on its next reincarnation.
As
Apple brought NFC and mobile payment
to their (also yet unreleased) Apple Watch, so will Samsung do the same with their next gen smartwatch, Business Korea reports. Apparently, Sammy is in cahoots with PayPal and Synaptics (leading biometrics verification specialist) and they are working to integrate a quick and easy mobile payment system in the Gear S successor, which will employ a fingerprint scanner for verification, no less.
Reportedly, the new wallet system will have its own app, which will notify users of deals nearby and allow them to pick out the item they want to purchase, before they even set foot in the store. After going in and picking their product up, all the user would have to do is press their finger against the watch's biometric scanner, and that would be it.
Sammy's 3rd generation smartwatch is said to be released next year – maybe "early", but that sounds like a big maybe. None the less, Samsung will probably do their best to not delay the launch for too long, as Apple's own Watch is said to be released "early next year" as well.
source:
BusinessKorea
via
SamMobile