Samsung's latest design patent could be showing us the Galaxy Note III
36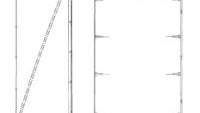 If you've been trailing Samsung'sGalaxy Note III in the weeks leading to today, you've probably seenfirst hand the noticeable increase in snippets of informationbecoming available. With just weeks left until the highly anticipatedunveiling on September4 in Berlin, less and less remains unknown to us – we've got arespectful chunk of the puzzle figured out. And while specsarguably make half the decision for would-be Galaxy Note III buyers,a certain galling omission can hardly go unnoticed – we simplydon't know how the phablet will end up looking like.
Of course, a number of allegedprototypedevices and renders have leaked out, but those are hardlyhelpful since Samsung has been known to use dummy externals to coverup the exact look of upcoming devices. This may have very wellchanged today, for Samsung has just been awarded a suspiciouslylooking design patent, to say the least. The patent application hasbeen filed on June 20, 2012, and although it may very well turn outthat this is not the SamsungGalaxy Note III after all, a heads up, at the very least, is inorder.
Regularsamong you may remember that just two weeks ago, Samsunggot awarded another two design patents, one of which a definitedeparture from the current Galaxy design language. While that one washighly interesting, it is theone we just got our hands on that seems like as good a Note IIIcandidate as we can imagine – it appears to feature S Pen supportand Samsung's proprietary FlipCover. Of course, thisremains in the sphere of purespeculations, but on a scale of one to ten – how likely do youthink it is that this is the real deal? Check out the images below and let usknow.