Check these two smartphone design patents Samsung got awarded
20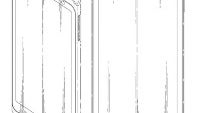 The mood must be at an all time high over at Samsung's HQ, for
things are

good
. The less conservative among us would even say that things
are going great
. And that's probably because the South Korea-based electronics behemoth simply doesn't show any signs of slowing down, and today is no exception.
A slew of patents has been issued Samsung's way in the last day and a half, ranging from new smartphone designs through a host of new icons, some of which more interesting than others
.
First off, a necessary health warning: these were all filed a year or so ago. Moreover, just because Samsung got a design patent does not necessarily mean a device looking just like that is on the way; in fact it, doesn't mean a device is on the way at all.
That being said, we're going to be disregarding common wisdom -- we're
not
going to reserve the best for last and, instead, talk about this new design patent Samsung got awarded, and what it means right off the bat! Before we get sidetracked, it's worth noting that Samsung also got awarded a number of icon designs, most of which rather trivial, but for one.
Is that a projector icon
?