Samsung's Galaxy S6 Active may come with a microSD card slot, but at a high cost
48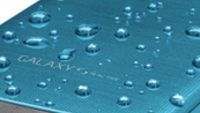 When Samsung finally
unveiled
the
Galaxy S6
and
Galaxy S6 edge
at the start of this month, everybody gawked at the sleek looks of the new handsets – no denying there. However, many were irked by the omission of two features that have, more or less, become signature for Samsung through the years – a user replaceable battery and a microSD storage expansion slot.
Now, since Sammy has done so well in
battery optimization
with its previous flagships – the
Note 4
and
Galaxy S5
– and has added a couple of pretty effective power saving modes, we'd feel safe to assume that less and less users feel the urge to carry a spare battery on them at all times. So, the removable battery issue may not affect many, though, the amount of users that will be missing the microSD card slot is, indeed, much larger – there's just something about being hard-limited to the phone's internal SD that irks Samsung fans, as they've boasted about expandable storage for years.
Well, hardcore devotees of Sammy's older style may want to wait just a little longer, as the
Galaxy S6 Active
may meet their needs a bit better, according to the following report.
Reddit user "garshol" sat down with a Samsung rep a couple of days ago to discuss the new Galaxies, and the Active was among the topics at the table. The ruggedized version of Sammy's latest flagship will boast "similar" hardware under the hood, according to the report, and will come with an SD card slot. However, it will also come at a cost – according to garshol's posts, the Active's camera will be a lower class than the one on the flagship model, but at least it may still have OIS. Additionally, the endurance model will not have a fingerprint scanner, and will lack a heartbeat sensor.
As for other features, appearance, and ruggedness – garshol's report says that the Active's battery may be removable, and it will see a return of the physical navigation buttons on the front. Supposedly, the phone is in final stages of development and should be launched some time mid-Summer.
We have to say we are a bit perplexed at Sammy omitting the heart-rate sensor from the Active version of its flagship (key word: "active"), but that's assuming that the report is 100% accurate. So, if it turns out that the rugged version of the Galaxy S6 has water resistance, removable battery, and a microSD card slot, would you prefer it to its sexy siblings?
Recommended Stories