Samsung wants to convince you the Tab 2 (7.0) is better than Kindle Fire, Nook Tablet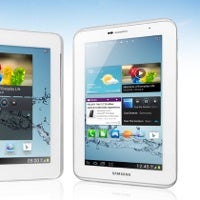 The
Samsung Galaxy Tab 2 (7.0)
not only has one of the most long and confusing names for a tablet, but it's also packing quite a punch for its extremely affordable $249 price tag. Much more than the Amazon Kindle Fire and the Barnes & Noble Nook Tablet, if we are to trust Samsung.
In reality, it's clear that Samsung offers more of the core Android experience - there is TouchWiz, of course, but it's a much lighter skin than what Amazon and B&N offer. So it all comes down whether you want a full-blown Android tablet, or a gateway to Amazon and B&N's ecosystems. In the latter case, nothing can beat the Kindle Fire and Nook Tablets.
But let's see what Samsung found necessary to point out to highlight the advantages of its Galaxy Tab 2 (7.0) over the competition in that price segment. In three detailed tables, the Korean company shows how its second-gen Tab shines with its cameras allowing it to perform video calls, but also with its expandable storage, unlimited access to applications via the Google Play store, the latest of Android, support for Bluetooth and GPS, as well as the tablet's light weight.
If those are not convincing enough, Samsung also stresses how the Tab 2 support much more media formats and gives a detailed comparison of all the features you'd miss if you pick the competition. Well, it definitely needs that kind of advertizing given how well the Kindle Fire sells. Which one of the three would you pick?