Samsung used paid actors to play the role of Galaxy Tab buyers
31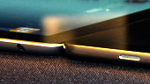 Three people who claimed to be buyers of three different Samsung manufactured Android flavored tablets were actors. According to a story in
Technologizer
, it has been revealed that
Samsung's Galaxy Tab Interview Project
, created to show the different types of customers that were buying the manufacturers tablets, were actually actors paid by Samsung to pretend that they had purchased the device.
On the video of the Interview Project, Freelance Travel Writer Joan Hess said about her Samsung Galaxy Tab, "I would mostly use it communicating with people all around the globe when I'm on the move. It's sexy, like me!" Film director Karl Shefelman was featured in a second spot for the unreleased Galaxy Tab 10.1. A third alleged Samsung customer, Real-Estate CEO Joseph Kolinski, said he used the Galaxy Tab 8.9, a third Samsung tablet with a display in between the 7 inches of the Galaxy Tab and the 10.1 inches of the bigger model. "I'm not very tech savvy," noted Kolinski but he said that the Galaxy Tab 8.9 helped him to stay on top of his busy schedule and said that he was "surprised how productive he was able to be with it." It might be more surprising to learn that at the time, the unit in Kolinski's possession did not yet turn on and the device isn't expected to launch until June. Further investigation revealed that Hess and Kolinski are actors living in New York, while Shefelman works for a production company that has done work for Samsung. Play the video below to see the three stories.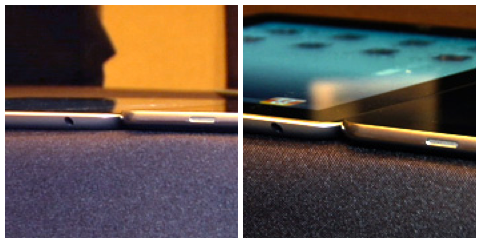 Pictures show that despite Samsung's boast that its Galaxy Tab (R) is .2mm thinner than the Apple iPad 2 (L), the latter is actually thinner
But wait, there's more. The Samsung Galaxy Tab 10.1 was revised as
we reported
, once Apple introduced the iPad. After chief product and technology officer Omar Khan praised the comments of Hess and Shefelman, which he ironically called "true life stories", the revised Samsung Galaxy Tab 10.1 was introduced as being .2 mm thinner than the iPad 2 by the Korean based manufacturer. However, pictures from Information Week (see below) appear to show that the latter tablet is thinner.
This all shows how competitive the tablet business is becoming so early in its life. Already, such features as being the thinnest, the lightest and the most productive are being used by manufacturers to promote its products even before consumers know for sure if they even really need a tablet.
source:
Technologizer
via
AppleInsider
; image courtesy of
Information Week