Samsung updates S Health adding competition
4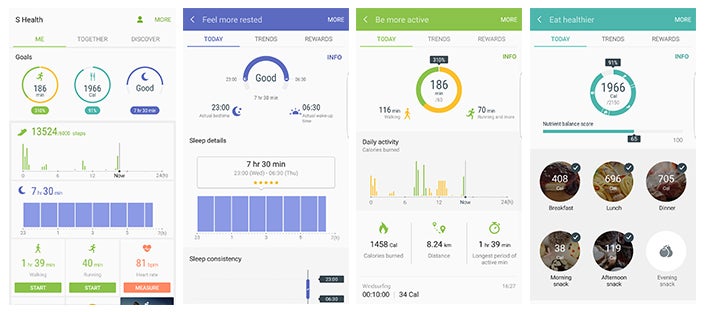 Samsung's S Health application brings all your fitness and wellness stats in one place with a very nice interface, but when it comes to real edge and stand-out features, it does little to differentiate from a ton of other similar apps out there.
Or rather: it did. The latest update to Samsung's S Health brings a few improvements, but one in particular stands out: a brand new competitive feature that allows you to challenge your friend to a battle of endurance and fitness. Who will make more steps? Who will work out more? Putting this on a competitive base with the backing up of S Health's solid statistical background makes the competition all the more fun.
Challenge your friend to a workout
In order to accommodate for the novelty, S Health has also gotten a design overhaul. The app now features three tabs: Me, Together and Discover. The Me tab is straightforward: it rounds up all the info around your personal health and fitness. The Together tab shows that social element: it allows you to easily share your activity on Facebook (please don't do it), but most importantly, it's how you challenge your friends to one-on-one competitions and check out private leaderboards. Finally, the Discover tab is something like a personalized health and fitness magazine with tips that Samsung promises will keep up to date with interesting and relevant to you articles.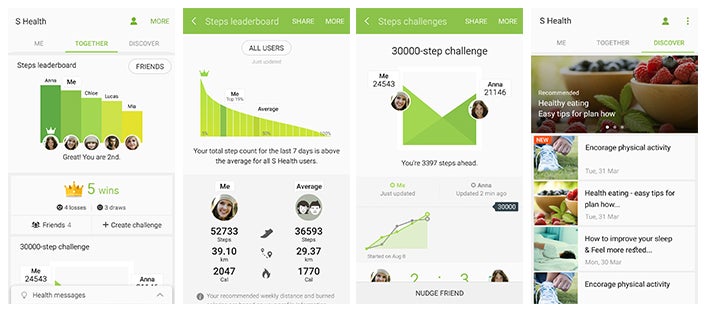 A special new feature is Ask Experts. First an experiment only available in Korea, it lets users ask local healthcare professionals questions about their workouts. Samsung promises that the feature will "expand to other countries in the near future", but that is a very broad term, and given the complexity of such an undertaking, we have some doubts about how near will that future actually be. Think about the complex agreements that have to be done with doctors and other experts in the United States and Europe, and you'd understand our skepticism.
For all else, this update makes S Health clearly better than before. It adds that fun element that will make it stand out. The update will be rolling out soon, so we're looking forward to your initial impressions.
Recommended Stories