Samsung seeks to capitalize from Huawei's sordid reputation
20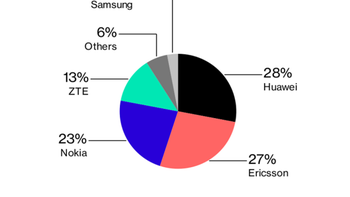 Huawei is the largest networking equipment supplier in the world. But with its reputation sullied by a bank scandal, technology theft and its founder's pledge to support the communist Chinese government, it is no wonder that many countries are thinking about banning the use of Huawei's networking gear for the build out of new 5G networks. In the U.S., where Huawei is considered a national security threat by lawmakers, President Trump plans on
banning the use of any Chinese networking equipment by U.S. carriers
.
The fear is that technology from Chinese companies contain back doors that spy on companies and consumers, and send this purloined information to the Chinese government. In China, companies like Huawei and ZTE are required to assist the communist regime with its intelligence gathering operations. While Huawei has denied the allegations numerous times, it recently was
charged criminally by the U.S. Justice Department for stealing robotic technology belonging to T-Mobile
. The wireless operator previously won $4.8 million from Huawei in a civil suit related to the same offense.
But one company's problems is another company's opportunity.
According to Reuters
(graph from
Bloomberg
) Samsung is budgeting more money for its networking equipment business, seeking to take advantage of the security fears that surround Huawei, ZTE and other Chinese firms. This information reportedly comes from Samsung officials and industry executives. For example, the report says that Samsung will invest $22 billion over three years into 5G equipment and other new technologies such as artificial intelligence, biopharma and automotive electronics. Huawei says that it welcomes the competition. Besides Huawei, other top tier suppliers of networking gear include Nokia and Ericsson.
There are some big name wireless firms interested in Samsung's 5G networking equipment. French carrier Orange, which is usually supplied by Huawei for its networks, will run its first 5G tests using Samsung equipment early this year. Usually, most carriers looking to build out their next-gen 5G networks would stick to the outfits they used for their 4G LTE pipelines and upgrade existing equipment; this saves the wireless firms some money. But the U.S. is pressuring other countries to stay away from Huawei and the company's technology is banned in Australia and New Zealand. Other European countries could follow suit.
And Samsung is ready to step in. As one source from inside the company said, "We're bolstering our network business to seize market opportunities arising at a time when Huawei is the subject of warnings about security."