Samsung to launch a special gold Galaxy S4 edition
99+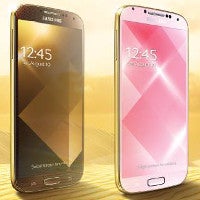 Less than two hours ago, Samsung pretty much confirmed that a special gold edition of its Galaxy S4 bestseller is on its way to consumers. Initially posted on its #SamsungMobileArabia Twitter handle, another arm of the consumer electronics giant also went ahead and confirmed the existence of at least two versions of the new gold edition – golden brown and golden pink.
As you can see from the snaps below, information is currently pretty sparse, and it's not yet obvious whether the handset will actually be gold-plated, or it's just a new color scheme. Having said that, we're putting our money on the former. It's also unknown if what Samsung calls a Gold Edition S4 will feature the same kind of hardware as its less affluent peers, though it appears quite unlikely that Sammy will mess with a winning recipe so late into its lifecycle.
Specifics such as release date and pricing are still up in the air, though we suppose we'll be hearing all about it soon.