Samsung tied in fight with Apple over supply chain control as only 10% of Galaxy S4 units have Exynos chip
38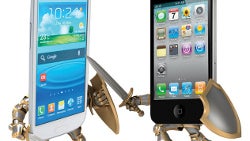 The
Samsung Galaxy S4
has become the
fastest selling device for the company
as it is about to sell in 10 million volume less than a month after launch and to secure stable supply the company is now getting tied in a huge fight with Apple over supply chain control. And while just months ago Apple grabbed the majority of smartphone profits, Samsung has almost evened it out, and the two took 100% of the profits in the industry last quarter.
To secure it can continue making enough Galaxy S4 phones and meet user demand Samsung is now buying more components than ever and the next huge battle between the industry's two giants might not happen in courtrooms but with suppliers.
"The next round of the post-patent battle for them will be over component supplies,"
NH Investment & Securities analyst Lee Sun-tae said.
"Who wins access to the best performing components in class in large quantity - that's the key ... and explains why Samsung is shopping for components more than ever."

Samsung manufactures a lot of the components for the Galaxy S4 including the AMOLED display, memory chips, battery and its core, the Exynos 5 Octa processor. However
only one in ten Galaxy S4s ships with the Samsung-made Exynos chip
. The remaining overwhelming majority of S4s actually runs on the Qualcomm-made quad-core Snapdragon 600 chip (including the US version of the phone). Qualcomm is a major Apple supplier.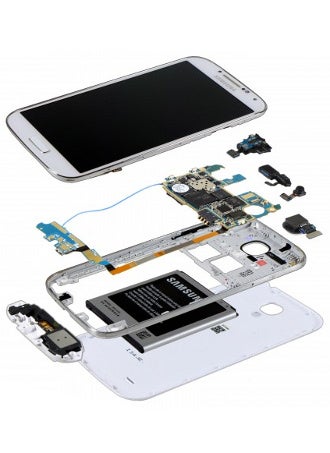 Samsung Galaxy S4 and its parts.
But that is not the only conflict of interests. Apple's traditional LCD supplier Sharp is courted by Samsung and rumor is the Korean company placed orders for Sharp displays for Galaxy smartphones last year but cancelled it later on. Samsung is also using Sony image sensors, NAND memory from Toshiba and Corning Gorilla Glass, all components that Apple also uses in its mobile devices.
That outsourcing of components, though, has the downside of Samsung using its differentiation factor. It bet on flexible displays promising to roll out bendable screens by the end of 2012, but that turned out too ambitious and now, one year later, the company has no schedule for flexible screens and has officially
denied the Galaxy Note III would have such a display
. LG on the other hand is promising a device with a flexible screen by the year end.
There is one thing in this whole situation Samsung understands very well and it is how its smartphones business quickly became a core driver of profits and is now spending more on marketing than research and development. So far, that's working out great, but the competition gets tougher by the day.
source:
Reuters