Samsung stock falls as Apple cuts iPhone X display orders twofold
13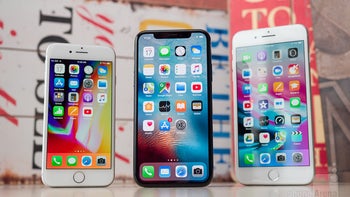 When Apple sneezes, suppliers catch a cold, and the rumored
50% reduction in iPhone X orders
for the current quarter is reverberating through the supply chain, tip Nikkei's Japanese sources, bringing down memory chip prices across the board, for instance.
Even an industry juggernaut like Samsung is scheduled to feel the
iPhone X
production cut pains, as Nikkei reports it is now scaling back to make just 20 million 5.8" flexible OLED display panels for Apple's newest handset, instead of the initial order for 45-50 million that was scheduled for the January-March period. Analysts expect the iPhone X demand to remain tepid next quarter as well, but Samsung Display's orders to gradually recover in the second half of the year, as Apple ramps up for the rumored
iPhone Xs
and
Xs Plus
, or whatever it names them.
Still, for the January-June period Samsung will eventually be facing overcapacity of OLED display production capabilities, as it invested billion in factories and equipment to produce those on a mass scale, expecting Apple to switch to OLED ahead of schedule, and the iPhone X to sell in larger quantities. Not only are people apparently content enough with other iPhones than the X, but Apple seems to have
bet on LCD for its iPhone 9
this year, and that is the one analysts expect to sell a 100 million units, not the OLED-laden iPhone Xs and Xs Plus, which will likely be much more expensive than the 9.
All this commotion resulted in a slump of Samsung's stock price yesterday, joined by smaller OLED component makers like Hodogaya Chemical Co and Hirata Corp. Samsung Display earned $1.3 billion last quarter, riding 30% higher than analysts expected on Apple orders, but the expectations that it will hit $1.7 billion profit this current quarter, were made without accounting for iPhone users' hesitancy to jump on the $999 X bandwagon, it seems.