The iPhone X won't lead to a super cycle, as Apple reportedly cut supply orders 50%
38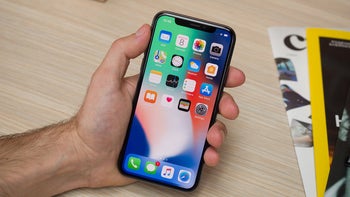 Apple has reportedly made the
iPhone X
production cuts official with suppliers on Monday, tips Nikkei, citing anonymous sources from the supply chain. Instead of the 40 million units that it had forecast will be needed in the January-March period, it seems that most early adopters have already jumped on the Animoji bandwagon, and the demand has now been adjusted to the much softer 20 million units pace. The report says that the iPhone X production cuts are due to rising inventories, as the
TrueDepth
camera components'
supply bottleneck
has been resolved, but it's still a 50% order cut, no matter how you slice it.
Nikkei is not the only source that claims subsiding iPhone X interest, as last week there were at least two
research firm memos
tipping
the same thing
, but today's report actually puts a number on the eventual production cuts. This might explain why Samsung's A3 OLED display factory won't be
operating at capacity
this month, after years of churning out mobile screens at full throttle - it is the shop that crafts the 5.8" panels for the iPhone X.
Apple is reporting its Q4 results this Thursday, and investors will be searching for any clue about these
reported iPhone X production cuts
when Apple issues its forecast for the current quarter. Analysts were expecting iPhone X to enter April with 63 million units sold behind its back, while now they are downgrading their estimates in the 51-57 million range. That is still in line with historical December-March declines of all iPhone sales of about 30%, after the initial demand peaks, but it's obviously not going to be the
super-cycle upgrade
that many were expecting, either.
As per reputed Apple analyst Toni Sacconaghi, who compiled a 2-page report on 45 Apple suppliers, nobody is completely sure how big the carnage might be in Q1:
We think it is tough to know. On one hand, if iPhone units are 55M (or worse) in March, it would likely point to modest (3% - 4%) iPhone unit growth for full year FY 18, and to a decline in iPhone upgrade rates YoY, despite initial expectations that this would be a super-cycle. On the flip side, (1) myriad supply chain reports have signaled that FY Q2 (March) could be disappointing, and investors are increasingly aware of that possibility; (2) ASP strength could offset much of the weakness and iPhone revenues will likely still grow 15% - 20%+ YoY; (3) an expected lower tax rate is likely to boost EPS estimates; (4) Services and other revenue appears likely to continue to be strong.
If today's Nikkei report holds water, and Apple indeed forecasts much weaker Q1 this Thursday, point one in that quote is to bear fruit, and every supplier that manufactures parts exclusive to the iPhone X, is likely to feel the burn, unless its produce is also good for use in the upcoming
iPhone Xs
and
Xs Plus
, too.