Samsung seeks retrial of retrial; claims Apple used racial tactics to appeal to jury
35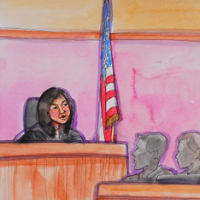 Last month,
a jury ruled that Samsung should pay Apple $290 million
for infringing on Apple's patents. This was the result of a retrial between the two rivals
that had been ordered by Judge Lucy Koh
after the jury in the original patent trial made some mistakes when they awarded damages. Judge Koh had vacated $410 million of the original $1.05 billion that Apple had been awarded, stating that the amount of money that the jury gave to Apple for certain Samsung devices did not match the number of patents the jury ruled that each device infringed upon.
Even though the total combined amount of the check that Samsung needs to cut has dropped from $1.05 billion to $930 million, Samsung is still not happy. The Korean based OEM is seeking a retrial of the retrial partly based on "racial bias". Samsung claims that Apple's attorneys compared Samsung to the Asian manufacturers that flooded the market with low-cost televisions and put several American companies into bankruptcy.
Samsung is asking Judge Koh to make a JMOL ruling (Judgment as a Matter of Law). Samsung says that Apple's case did not provide enough evidence to support a verdict in its favor. In other words, the defendant is seeking a directed verdict from Judge Koh, or a retrial of the retrial. For its part, Apple is also seeking a JMOL from the Judge.
If this sounds complicated, consider that early next year another patent trial between the two rivals will start. This time, a new jury will be asked to determine if some of Samsung's more recent devices infringed on Apple's patents. Samsung's request for a directed verdict can be found below.
source:
Scribd
via
FOSSPatents
,
BGR
>