Samsung reveals the Galaxy Ace 4 in both 3G and LTE variations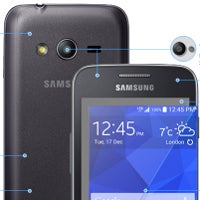 Samsung poured a bunch of low- to midrange phones over our unsuspecting tech heads today, announcing long-awaited sequels to its Ace, Core, and Young lines. One of these successors is the
Galaxy Ace 4
, but if you have been waiting for a huge specs upgrade over the
Ace 3
, you'll be in for a disappointment.
The Ace 4 sports roughly the same specs like its predecessor, but, naturally, comes with Android 4.4 KitKat out of the box, so no harm, no foul. There are actually two versions of the Ace 4 - one with 3G-only, and one with 4G Lte connectivity. the differences, besides the cellular connectivity support, are the slightly faster, 1.2 GHz dual-core processor in the LTE version, against the 1 GHz CPU in the 3G one, 1 GB of RAM instead of 512 MB in the 3G variant, and 1800 mAh battery for the LTE kiddy, instead of 1500 mAh in the 3G Ace 4. The dimensions of both devices are slightly different - 121.4 x 62.9 x 10.8 mm, and 123.8g for the 3G Ace 4, while the LTE version is slightly thicker and heavier, but not by much.
Other than that we get the same 4" 480x800 pixels screen we had in the Ace 3, and a 5 MP camera with LED flash on the back. The built-in storage is 4 GB, with a microSD slot for expansion at up to 64 GB more. Naturally, the Galaxy Ace 4 comes standard with Samsung's TouchWiz Essence interface, which is a stripped down version of the TW you'd find on flagships like the Galaxy S5, without things like the Multi-window mode, for instance. The Galaxy Ace 4 will be available in "Iris Charcoal" and "Classic White" next month for a price yet to be pegged by Samsung.