Samsung reportedly experiencing production issues with the Galaxy S6 Edge's curved display
18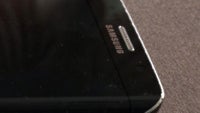 The
Samsung Galaxy S6
and the
Samsung Galaxy S6 Edge
will get unveiled this Sunday, but the phones probably won't get released on the market until late March, early April. If some of the recently-circulating rumors about the availability of the device are true, Samsung might be experiencing some production issues with the curved sloping display that is wildly-expected to be the highlight and main selling point of the
Galaxy S6 Edge
.
The handset that is already touted as boasting a lot of
"six appeal"
and gets teased by the large US mobile carriers, the S6 Edge, is experiencing shortage of curved display, as the manufacturing of these has reportedly proved to be a tough and cumbersome job for Samsung and its suppliers.
Seemingly, Samsung is poised to predominantly focus emphasize on the sloping wrap-around display of the Galaxy S6 Edge, and it will be quite awkward if it fails to meet the predicted demand for the phone.
However, we should take a few things in account: firstly, it's not yet known if the Galaxy S6 Edge will be a niche device or a full-blown alternative of the Galaxy S6 that will be sold alongside it from the get-go. This remains to be seen when both handsets launch in the following months, carrying the banner of Samsung's hope for market revival.