Samsung releases four minute promo video for the Samsung Galaxy Note 4
60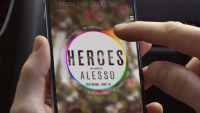 Two friends, each presumably totin' the
Samsung Galaxy Note 4
(which of course, has not yet been released) decide to see how many words they can change to include the word "Note". For example, one of the guys orders a "decaffinoted" coffee. One of the two has a girlfriend who says, "
This game is really stupid. I feel like I'm dating a ten-year old
." This is the "plot" of a promotional video produced by Samsung for its new 5.7-inch phablet.
We've been known to toss in a pun here and there, but listening to four minutes of this is enough to drive you notey. By the way, the latest iteration of Samsung's high-end phablet can now be pre-ordered from all four major U.S. carriers.
This year, thanks to the launch of the
Apple iPhone 6 Plus
, there is plenty of intrigue over how well the Galaxy Note 4 sells. There is no doubt that Apple's phablet might have taken away some business from Samsung, although the #Bendgate issue might steer some phablet buyers toward the Samsung Galaxy Note 4.
If you think that you can stand four minutes of puns like "Note in my house," than go ahead and click on the video below. Don't say that we didn't warn you.
source:
Samsung
via
RedmondPie