Samsung raises 2010 estimate of smartphone sales from 18 million to 25 million
2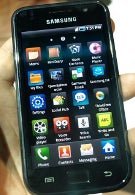 The Samsung Galaxy S has been such a smash hit with all of its different flavors, that the Korean based manufacturer is raising its estimate of the number of smartphones it expects to sell in 2010. Originally pegged to sell 18 million smartphones this year, Samsung now is looking to sell 25 million for an increase of 7 million. If you think that sounds like a big jump in expectations, keep in mind that in 2009, Samsung sold just 6 million smartphones. These figures came from the President of Samsung's mobile division, J.K. Shin, who added that he expects his firm to have a double digit share of the smartphone market by the end of the year.
The Samsung Galaxy S has been launched overseas and by 3 of the top 4 U.S. carriers. Next week, with the launch of the Samsung Fascinate by Verizon, it will be a perfect four out of four in the U.S. As we
reported
, Sprint said that its release of the Epic 4G last week-a version of the Galaxy S Pro- resulted in one of the best sales figures for a new phone launch in Sprint history.
source:
BGR