Samsung profit margins said to have been highest around Galaxy Note II launch, slipping since then
41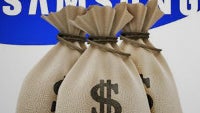 Samsung, the world's biggest smartphone maker, dethroned Nokia from the number one spot a couple of years ago with an aggressive strategy and full-on engagement with Android, but now, emerging rival companies from China have taken the same stones to try and beat the market leader.
With a huge pile of unsold Samsung smartphones on store shelves, the company has been forced to admit to a sobering 20% decline in net profits in the last quarter as earning shrank.
Now, as analysts are warning about the possible further deterioration in Samsung fortunes, we are seeing more details about the profitability of the phone business at the largest smartphone maker.
Turns out, smartphone margins over at Samsung peaked with the Galaxy Note II, a phablet released in late 2012. The peak occurred in the first quarter of 2013 when the smartphone division of the company operated at a 25% margin, according to analyst Mark Newman of Bernstein Research.
In the year and a half that followed, margins have dropped to 19% currently, and are expected to further slump to 15% next year.
Smartphone margins over at Samsung peaked with the Galaxy Note II
Even worse, hopes to see flexible display technologies revitalize Samsung's margins are dimmer now, according to analysts. However, with a gigantic sales network, Samsung has one obvious weapon - lower prices down further, a move that is very likely to shut the doors for the emerging waves of affordable smartphone from Chinese companies. The company is obviously in a need for some restructuring, but wouldn't margins suffer from that, and is it really something that the company should do? We're looking forward for your thoughts below.
source:
WSJ
Recommended Stories