Samsung patent reveals AR emoji video calls?
7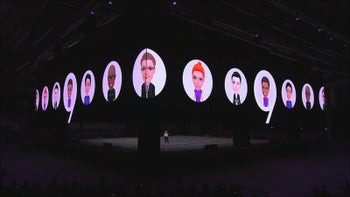 A recently uncovered patent filed by Samsung reveals that the company has at least considered utilizing its new
AR-emoji
tech for a FaceTime-esque video call program. The patent shows a user being able to use the technology recently released on the
Galaxy S9
to create an emoji with the caller's likeness and facial expressions, then transmitting that live with audio to another user. It seems to operate under the premise that this would be beneficial for lower-bandwidth situations. The designs revealed in the patent show that work on this technology goes back as far as 2013, with the patent being filed in 2016 and approved just this month.
Why should Samsung bother now?
It may seem a bit silly now, with 5G on the
horizon
and with cellular service improving so much. In most areas, a user can place a Skype or FaceTime call without any issues. But this is not entirely true. There are plenty of places not just in the U.S. but across the globe with less than stellar reception. There are also locations where mobile bandwidth is restricted monetarily. This could be of huge benefit for users who find themselves in such areas. As always with patent findings, this is by no means a guarantee that this technology will ever see the light of day.
There may be a huge benefit for a person to have something to look at while communicating. The avatar would reflect the user's facial expressions and give the impression they are still having a face-to-face conversation. It is human nature to desire this type of communication, and this technology could provide that opportunity for those who are otherwise unable to do so. It is also sure to be a hit among kids and those who are a bit more camera shy.