Samsung Galaxy Y Pro Preview
6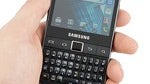 Introduction:
According to the new smartphone naming scheme, the "Pro" component in the
Samsung Galaxy Y Pro
's title indicates a physical keyboard. While "Pro" has often been included in the name of portrait or side-sliding physical QWERTY handsets, now the moniker is officialized by Samsung, guaranteeing some thumb gymnastics. Again following the new nomenclature, "Y" should indicate an entry level handset, targeting emerging markets or the younger crowd, i.e. affordable handsets with lesser specs.
The Samsung Galaxy Y Pro covers these modest expectations with a humble sub-1GHz processor, 3MP camera and a 2.6" display with pedestrian resolution, but it sports the latest Android 2.3 Gingerbread and a capacitive touchscreen in addition to the portrait QWERTY thumb-bender. Are they complementing each other well in the Galaxy Y Pro? We have a prototype unit for preview here, so let's find out…
Design:
The Samsung Galaxy Y Pro doesn't shine with any unorthodox design decisions, it's just a portrait QWERTY candybar. There are no fancy capacitive buttons underneath the display – all four Android keys and the optical pad in their middle are physical buttons, which will appeal to many who prefer a reassuring click and clack underneath their thumbs. All navigational buttons are large, square, easy to find and press. The optical pad can be pressed to execute a command, and it is sensitive enough for accurate navigation across the 2.6" screen.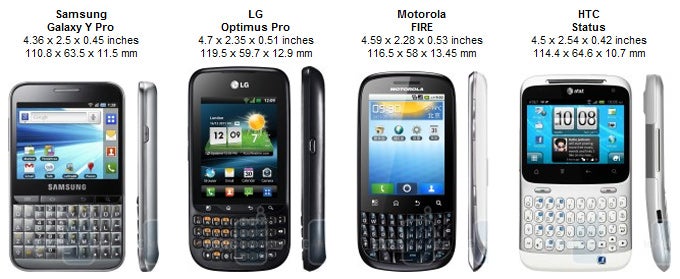 You can compare the Samsung Galaxy Y Pro with many other phones using our
Size Visualization Tool
.
The
display
size at 2.6" is what one can expect from such a form factor. It isn't winning any resolution awards with its 240x320 pixels, but it is something one can expect considering the phone's class. We're happy that the touchscreen layer is very sensitive even on our prototype unit, making navigating Android 2.3 Gingerbread a joy.
Now it's time to say a few words about the Samsung Galaxy Y Pro's most important asset – its
physical portrait QWERTY keyboard
. The phone is relatevily wide, with enough space for the keyboard; it is chiclet-style, with each dome separated from the others with enough space to easily feel the buttons by touch. There are two function keys down right, which can be assigned to actions of your choosing – neat idea.
Overall, we dig the simple and functional design of the Samsung Galaxy Y Pro. Its physical keyboard keys are of decent size, the navigational buttons are easy to press, and the capacitive touchscreen is responsive. Naturally, if you have larger hands, this won't be the phone for you, unless you can make do by pecking with your nail edges.
Samsung Galaxy Y Pro 360-degrees View:
Recommended Stories