Samsung officially announces Bixby, its new AI assistant
39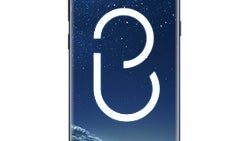 It feels weird reporting on some new information regarding the upcoming (and very, very leaky) Samsung Galaxy S8 and S8+ with the source actually being Samsung itself for once. And yet here we are – the Korean giant has just made its new AI assistant, Bixby, official, detailing some of its functionality ahead of the flagship pair's official reveal on March 29.
The announcement's timing is somewhat peculiar, though, as Bixby is supposed to be one of the biggest features of the S8 pair. However, the blog post itself states multiple times that the assistant will not be exclusive to the two new flagships, and the company hopes to eventually bring it to all of its Internet-connected devices:
Starting with our smartphones, Bixby will be gradually applied to all our appliances. In the future you would be able to control your air conditioner or TV through Bixby. Since Bixby will be implemented in the cloud, as long as a device has an internet connection and simple circuitry to receive voice inputs, it will be able to connect with Bixby. As the Bixby ecosystem grows, we believe Bixby will evolve from a smartphone interface to an interface for your life.
Or in other words, Samsung wants to turn every 90's smart home fever dream into reality, which is... a generally terrible idea, we think. Here's hoping this doesn't turn into the plot of the Disney Channel original
Smart House.
Until then, however, Bixby will be heading to Samsung's new smartphones, and the company claims to have laid the groundwork for an AI experience people will actually use, according to the surprisingly little actual information shared in the otherwise lengthy press release.
Samsung says Bixby will be context-sensitive and feature-complete
From what we've gathered, the assistant will work as follows: provided the user is currently using a Bixby-enabled app, pressing the special-purpose button will bring Bixby to the front, which will then prompt users for a voice or touch command (it's not yet clear whether text commands will be supported), which will be context-sensitive. That is, Bixby will take into account what the user is currently doing when evaluating their commands, like an upgraded version of Google's Now on Tap. Samsung also wants the assistant to be feature-complete, meaning it can do everything an app can do with its conventional interface.




The biggest chunk of the press release, however, is dedicated to the company's desire to make speaking to an AI assistant natural – that is, rather than have users conform to the assistant's limited command vocabulary, Bixby will try to understand what users are asking of it, even when they supply incomplete information. How it plans to do that isn't entirely clear, though – Samsung says Bixby "will prompt users to provide more information and take the execution of the task in piecemeal", but that, as far as we know, is the way pretty much every assistant works nowadays.



The lack of clarity regarding Bixby's features is a little suspicious
So it remains unclear what exactly will be
unique
about Samsung's new AI, as, at least according to this press release, it doesn't present anything groundbreaking. Apart from the company's desire to achieve feature parity with apps' regular touch interfaces, not much jumps out as particularly revolutionary at the moment (and by the way, that parity will have to be added by app developers, rather that Samsung itself, which makes us really skeptical regarding its future success). In fact, the whole press release lacks much detail, like, say, screenshots and examples, which may be logical if Samsung doesn't want to reveal much about its user interface, but still makes us wonder why the company chose to publish it today –it's not like the S8 doesn't get talked about daily, what with all the leaks.
There has been a lot of excitement and speculation about what we will deliver with the launch of the Galaxy S8 later this month, especially due to the advancements in artificial intelligence. We do have a bold vision of revolutionizing the human-to-machine interface, but that vision won't be realized overnight. Ambition takes time.
Okay? So does that mean that it won't be included in the S8, or simply that it would suck at launch? Who knows, really: further down, the press release reads: "At the launch of the Galaxy S8, a subset of preinstalled applications will be Bixby-enabled," which doesn't exactly answer our question, but gives us hope it could be included at the S8's launch. Maybe.
We're still not sure whether Bixby will be available at the S8's launch
What we
do
know, however, is that no matter Bixby gets released, it won't work with most apps at launch – as per Samsung's own words, apps will need to be specifically Bixby-enabled, and a tool for implementing its functionality will be released in an SDK... eventually. Whether any big-name third-party apps will support it at launch is, you guessed it: currently unknown, so we'll just have to wait and see.
Lastly, the company feels the need to present Bixby as spearheading the company's evolution as a software and services one. This is an interesting approach, especially considering that for most of its Android smartphones' existence, its custom software, perivously known as TouchWiz, has been the golden standard for bloatware among tech enthusiasts. Admittedly, the company has somewhat cleaned up its act with the
Galaxy S7
and
S7 edge
, but it remains to be seen whether shoving a flashy virtual assistant into its flagships won't be seen as the company going back to its old tricks by consumers.
Recommended Stories