Galaxy S8 may have a Bixby button without Bixby AI at launch (hope it's programmable)
31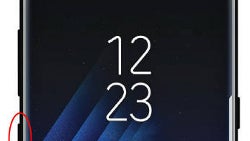 Unsurprisingly, there were more rumors about the Galaxy S8's eventual Bixby virtual assistant with artificial intelligence, than there were for the phone's hardware prowess, of which we only have a
purported benchmark
or two. After all, everyone is betting big on AI, and Samsung doesn't want to get left behind the Google Assistants, Cortanas, Alexas, or Siris of this world.
That is why it acquired one of the
most promising AI firms, Viv
, and, from the looks of it, has tailored the chassis hardware to accommodate Bixby better by introducing a
dedicated button
for launching the digital assistant. The initial claims were that Samsung is sold on the idea to have a physical button on the S8, with the sole purpose of starting the Bixby butler, and Samsung is even
listing its assistant
as able to "
control all operations of the touch interface
."
This is certainly a good idea for those moments you don't want to shout at your phone in the metro car looking like a douche, and Korean media today confirms the presence of a dedicated button on the S8. It, however, will just be a shortcut key for the time being, claim the sources, as Samsung is still shoehorning the Viv Labs proposition for the mobile realm, so the extra button you see below the volume keys on the left of the S8 renders will serve as a shortcut for now.
Samsung apparently plans to enable the key with Bixby functionality via a software update in the first half of the year, which might explain the previous rumors that
Bixby will rely on an enhanced version of S Voice
, at least in the beginning. Long story short, we don't know how good Bixby will be yet, but if Samsung makes that shortcut key on the left programmable, it will certainly win the heart of fans nationwide.