Samsung may launch two Galaxy S7 edge versions at once, with different screen diagonals
29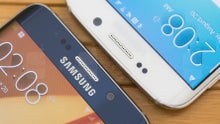 Galaxy S7
is the next master of the smartphone universe to look forward to, and the leaks about it have started earlier than usual, as it might very well be unveiled prior to the usual spring timeframe, if you believe the rumors. While we have heard that it will come equipped with the l
atest Exynos or Snapdragon processors
,
20 MP camera
,
Force Touch display
, and
USB Type-C
(all rather believable propositions), the murkiest details about it are the screen size (or sizes, if the latest rumor holds water).
Let's recap the speculations we've heard so far about the eventual Galaxy S7 screen panel(s) so far. Back in April, a report emerged about Samsung overhauling its factory for an increased flexible display yield. At the time, the source tipped that it won't be only the Galaxy S6 edge+ that will use one, but also the Galaxy S7, too, with Samsung building capacity for no less than 8 million panels per month on that front. So far, so good - there will apparently be a curved-display version of the S7, which is not hard to fathom, given the existence of the S6 edge now.
Fast forward a few months, and the next report from Korean media came to speculate that
the S7 will launch with two screen sizes
- a 5.2" one, and a 5.7-incher, which we'd have to see to believe, as it's never happened so far. Later on came another one - that we will indeed have two versions of the phone, but they will differ as the S6 differs from the S6 edge, i.e. with the latter having a dual-edge display.
Today's rumor of the moment is that the two different screen diagonals are allegedly going to happen indeed, but they are reserved for the S7 versions with a flexible screen. Again, this is not hard to believe, given that we already have the S6 edge and S6 edge+. The kicker, however, is that the source now claims that the eventual S7 edge and S7 edge+ will be launched simultaneously.
If we fuse all these rumors together, the Galaxy S7 would arrive with several screen versions to suit every taste - one 5.2" with flat panel, one 5.2" with a curved one on the sides, and another one with flexible display that would be 5.7" in size, all announced at the same time. This would be a pretty tough proposition to believe, so we'd wait until more light is shed on the matter in the form of leaks and tips.