Samsung makes Galaxy S III mini official
35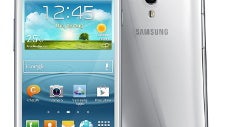 The
Samsung Galaxy S III mini
is now official. The 4.0-inch handset that some hoped would be Samsung's answer to the
iPhone 5
, turned out to be a rather mediocre device, but it is affordable and it comes with the latest of Android, 4.1 Jelly Bean.
The interesting thing about the Galaxy S III mini is that it
has all the unique features that came in the original S III
: TouchWiz with the S Voice assistant, SmartStay that shuts off the screen when you're not looking at it and S Beam with tap to share for songs and files as big as 10MB. We don't know whether that's a good thing or not, though - we definitely prefer Google's Voice Search with its accuracy and quickness over the sluggish S Beam.
Hardware-wise, the Samsung Galaxy S III mini is a mid-range device. Here is a quick rundown of its spec highlights:

- 4.0-inch Super AMOLED WVGA (480 x 800-pixel) screen
- 1GHz dual-core processor
- 1GB of RAM
- 5-megapixel rear camera, VGA on the front
- 8/16GB of internal storage
- microSD card slot
- 1,500mAh battery
- HSPA 900/1900/2100 (no LTE)
- NFC
The S III mini is 0.39 inches (9.9mm) thick, a hair larger than the original. It's coming in white and blue, the same colors, and the same design with rounded edges as the Galaxy S III. It will definitely sell for the Holidays in Europe which is one of its main target markets (no word on U.S. availability, though) for a price of around 400 euro (around $515). How do you like it?
source: Samsung
Samsung Introduces GALAXY S III mini, a compact yet powerful smartphone
GALAXY S III's nature-inspired design and intuitive ease-of-use in one stylish, compact smartphone
SEOUL, Korea – October 12, 2012 –
Samsung Electronics Co., Ltd, a global leader in digital media and digital convergence technologies, today unveiled the GALAXY S III mini,
a compact version of the flagship smartphone GALAXY S III.
The GALAXY S III mini brings the high performance, intuitive ease-of-use and nature-inspired design of the GALAXY S III to an elegant,
compact smartphone with a 4.0-inch screen. It can be an optimal choice for consumers who are looking for more practical smartphones.
"The GALAXY S III introduced a new concept of smartphone that has proven hugely popular around the world.
We're now delighted to bring its revolutionary design, intuitive usability and intelligence to the GALAXY S III mini in a more compact form," said JK Shin, President and Head of IT & Mobile Communications Division at Samsung Electronics. "We continue to make every effort to provide extraordinary mobile experiences to meet a wide variety of user needs."
The GALAXY S III mini is powered by Android™ 4.1 (Jelly Bean), the latest version of the world's most popular smartphone operating system.
Jelly Bean has fast, fluid and smooth graphics along with a new Google Search™ experience featuring Google Now™, which brings you just the right information, before you even ask.
Stylish and compact, the GALAXY S III mini shares the GALAXY S III's breakthrough design and simple elegance.
Its ultra-minimal curved frame delivers a rich natural feel, which is also reflected on its nature-inspired home screen, wallpapers and ringtones.
Its beautiful 4.0-inch Super AMOLED display offers a generous viewing experience that lets you view multimedia and Web content in brilliant color and clarity.
Its compact size gives users a comfortable grip and allows a convenient one-hand operation.
The GALAXY S III mini is packed with intelligent technology designed to make interacting with the phone incredibly natural and intuitive.
S Voice, Samsung's advanced natural language recognition software, lets you use your voice to unlock the phone with
simple customized commands, or to play your favorite songs, turn the volume up or down, organize your schedule, or automatically launch the camera and start taking photos.
The GALAXY S III mini also understands your gestures to make using your phone easier and more natural: With Smart Stay,
the phone's camera tracks your eyes and keeps the screen lit as long as you are looking at it. When reading a text message from a friend,
Direct Call enables you to automatically dial a call simply by lifting the phone to your ear; and Smart Alert conveniently alerts you to missed calls or messages as soon as you pick up your phone.
Content sharing is easy and fast on the GALAXY S III mini: Its S Beam feature lets you share a 10MB music file in just two seconds
by simply tapping on another S Beam-enabled device including GALAXY S III or GALAXY Note II, even without a Wi-Fi or cellular signal.
The 'Buddy photo share' function also allows photos to be easily and simultaneously shared with all your friends pictured in an image directly from the camera or the photo gallery.