Samsung goes bolder, "more aggressive" in the patent war with Apple
78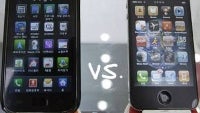 The current legal battle between Samsung and Apple is among the
biggest legal disputes
the tech industry has seen, and it's about to get uglier. Samsung, which up until now has held a relatively quiet stand, isn't going to keep quiet for too long and will become more aggressive defending its rights.
"We'll be pursuing our rights for this in a more aggressive way from now on,"
Lee Younghee, heading global marketing for mobile communications at Samsung said in an interview. The Koreans say that Apple has been
"free riding"
wireless patents until now.
Samsung has virtually only commented on the ongoing litigations via press releases and this official statement comes as the first proof of the new aggressive strategy. The company has recently backfired with a planned lawsuit aiming to
halt next-gen iPhone sales in Europe
.
Samsung's offensive starts after numerous rumors confirmed that
Apple is moving away from the Korean company
as one of its main suppliers of silicon and moving to Taiwanese TSMC. Samsung reported revenues of $5.7 billion from Apple in its 2010 financial report.
It all started with Apple saying that the Koreans
"slavishly copy"
the iPhone and the iPad, borrowing not only the form factor, but things as little as icons. In the initial filing, Apple provided details as tiny as the degree of the phone handle in the phone application, which Cupertino thinks has been copied directly from iOS.
Apple was quick to give an answer Samsung's new strategy by saying:
"It is no coincidence that Samsung's latest products look a lot like the iPhone and iPad, from the shape of the hardware to the user interface and even the packaging. This kind of blatant copying is wrong and we need to protect Apple's intellectual property when companies steal our ideas,"
Korea-based spokesman for Apple, Steve Park, said.