Samsung chairman conscious after two-week coma
20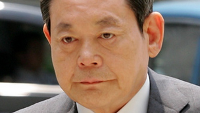 After spending two weeks in a coma, Samsung chairman Lee Kun-hee has regained consciousness at the Samsung Medical Center in South Korea. The 72 year old executive is reacting to stimuli, and while he is considered stable, the hospital refused to say if Lee can speak. Earlier this month,
he had suffered a heart attack
, which forced Doctors to use CPR to resuscitate him.
The billionaire had been in a coma until Sunday, when he opened his eyes after family members made noise while watching a Korean Organization baseball game on television. Apparently, Samsung Lion's power hitter Lee Seung-yeop hit a home run in the third inning of an 18-2 blowout win for Samsung, and the reaction of his family to the hit was enough to take the Samsung chairman out of the final stages of his coma.
"The prognosis for his cognitive function is hopeful given the extent of his neurological recovery. His heart, lungs and other organs are functioning normally."-Medical update on Samsung chairman Lee Kun-hee
Samsung does have a succession plan in place with Vice Chairman Jay Y. Lee, 45, groomed to replace his dad. The elder Mr. Lee had taken over Samsung from his dad, company founder Lee Byung-chul, in 1987.
source:
WSJ