Samsung and LG both racing to out a foldable phone
18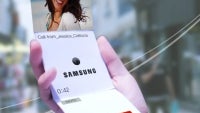 Samsung's first phone with flexible display, made with plastic instead of glass substrate, was the
Galaxy Round
way back in 2013. Since then we saw the technology enter the mainstream in the
Galaxy S6 edge
and
edge+
, as well as the
Note Edge
, predominantly for the cool factor, rather than any tangible benefits from the side-sloping display.
A real foldable device is another matter, though, as you can have a largish display in a small pocketable footprint for carrying around. We already learned that Samsung's Project V (for
Valley
), is
being tested for January release
. The foldable smartphone is allegedly being run through its paces with both Snapdragon 620 and 820 configurations, 3 GB of RAM, microSD card slot, and, naturally, a non-removable battery.
How exactly will Samsung's foldable Project V smartphone look like, remains to be seen, but the Korean media reports today that LG has also created foldable display prototypes, and intends to use them in proof-of-concept phones. LG has apparently cracked the bendy code at the beginning of the year, and is mulling commercial applications for such screens. Samsung has
had a working prototype of this display for a while now
, allowing for thousands of closings and openings without deterioration of the folding area.
It's using a metal mesh touch layer in the display itself, and not an indium tin oxide (ITO) film, which deteriorates when bent, especially at the curved area. Long story short, both Samsung and LG seem ready to enter the foldable smartphone race as soon as next year, so we can't wait to see their final designs, and, above all, the pricing of such bendy handsets.