Samsung and CellTrust team up to replace pagers in hospitals with Galaxy phones and smart-watches
14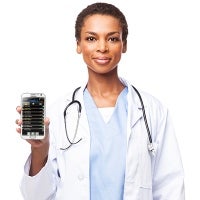 Samsung and CellTrust Corp. announced a pager replacement solution for healthcare communication. The product will harness the Galaxy smartphone - Galaxy Gear combo's capabilities to provide a "seamless secure messenger and two-way pager" for medical staff. The solution is based on Cell Trust's SecureSMS PULSE - a HIPAA compliant secure mobile communication solution featuring CellTrust's secure messaging and smart pager technology.
The two companies believe their partnership can solve the communication challenges faced by professionals in the field: multiple paging devices, connectivity dead spots, and complicated regulatory requirements for transmitting patient information. According to Samsung, a Galaxy Rugby Pro, S4 ,or Note smartphone that supports CellTrust's technology can make medical personnel "quickly and easily respond to critical alerts, so they can focus on treating their patients." CellTrust's CEO, Sean Moshir, added that certain Samsung special features and the Galaxy Gear integration can "open up a new dimensions in secure hands-free communication."
The partners have published a video that illustrates the concepts they have been working on. In the context of a hypothetical medical institution's day, Samsung and CellTrust's solution decreases the chances of miscommunication, and provides better coordination while saving the staff precious minutes.
source: CellTrust Corporation