Samsung Windows Phone 8 smartphone to be "as good" as the Galaxy S III, Windows 8 Note tablet incoming
45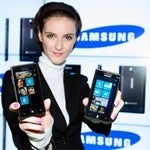 Samsung may be the king of Android land, but that doesn't mean that other platforms are not of importance to the manufacturer. In fact, the company appears to have big plans for the Windows Phone market, judging by what Samsung executives shared with
Smarthouse
in a recent interview. There is a
"very clear"
strategy that Samsung is going to follow in order to boost its presence on the WP arena; a strategy that Nokia –
the company that currently reigns Windows Phone
turf with its
Lumia smartphones
, should be very concerned about.
"as good"
as the newly unveiled
Samsung Galaxy S III
, presumably both in terms of hardware and design.
Let us not forget, however, that Nokia is rumored to be working on next-gen Windows Phone 8 devices of its own. One of these devices is said to be codenamed
Nokia Prodigy
, and rumor has it that it will be far superior when compared to Windows Phone devices of today. Nevertheless, whether it will be more successful of a product than the aforementioned Windows Phone 8 handset by Samsung is something that only time will tell.