Samsung Omnia II comes to Verizon
This article contains unofficial information.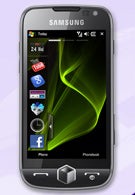 While Samsung has announced
four new Omnia phones
yesterday, it wasn't clear which will be the carriers to offer these. PCMagazine has informed that the
Samsung Omnia II
will follow in the footsteps of its predecessor and become available with Verizon Wireless. Bill Ogle, CMO at Samsung, has talked about the success the original Omnia saw, while introducing the new WM smartphone for the carrier.
Besides the newer TouchWiz 2.0 interface, the Omnia II will also be updatable to Windows Mobile 6.5. As of now, there is no information regarding the release date and the price of the new smartphone, but we hope to see it up and running soon enough.
Samsung Omnia II CDMA Preliminary Specifications
source:
PCMagazine