Samsung announces four new OMNIA phones
9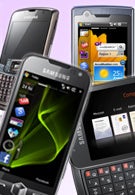 This article originally had information about the phones from the OmniaPRO series only.
Samsung
has really outdone itself by announcing four new Omnia handsets. Earlier today, we told you about two of them, the B7610 and the B7320. However, the manufacturer has now revealed two others: the Omnia II, which we have already seen in a video, as well as the OmniaLITE. It seems that both the B7610 and the B7320 will bear the OmniaPRO series name, although they are pretty different.
We will begin with the
Samsung OmniaPRO B7610
that has been subject of quite a few rumors lately, being referred to as the Louvre in some of them. There hasn't been much information provided by Samsung yet, but pictures confirm this is a side slider, running Windows Mobile Professional. As for the other specs, the device will come equipped with a 3.5" AMOLED touch sensitive display with a resolution of 480x800 pixels and 5-megapixel camera, as well as Wi-Fi and HSDPA connectivity.
Samsung OmniaPRO B7610 Specifications
Samsung OmniaPRO B7320
. It also sports a full-fledged QWERTY keyboard, but comes in classic candybar form factor and lacks a touch-sensitive screen, running on Windows Mobile 6.1 Standard edition. It seems to be global version of the Samsung Jack, offered in the US with AT&T.T It targets users seeking for quick access to social networks through apps like Facebook and MySpace. The OmniaPRO B7320 also sports a 3MP camera and Wi-Fi.
Samsung OmniaPRO B7320 Specifications
Now, information about the
Omnia II I8000
was leaked recently, and we were aware of some of its key features. Here's the deal: it runs on Windows Mobile 6.1 Professional and sports a very large, 3.7-inch AMOLED WVGA resolution touchscreen. The TouchWiz 2.0 interface is again on board in order to disguise the OS and what's cooler, users will be able to enjoy Samsung's vision of a 3D cube interface, as with the
Samsung Jet
. The Omnia II offers video recording in DVD quality, as well as HSDPA and Wi-Fi connectivity.
Samsung Omnia II I8000 Specifications
The last handset is called the
OmniaLITE B7300
and as it seems, it will be a slightly lower-end smartphone, again with the TouchWiz 2.0 interface, downloadable widgets, HSDPA and Wi-Fi. In addition, it sports a 3MP camera and A-GPS.
Samsung OmniaLITE B7300 Specifications
source:
Samsung