Samsung Nexus 3 photo samples appear on Picasa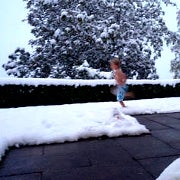 UPDATE:
Google's John Mueller
took to G+
to explain that "
We get to test some things before they're launched, but for everything else, there's exiv2.org... Just to be clear, the EXIF data here is modified. Sorry for the confusion :)
" Thus, the Samsung Nexus 3 moniker seems to have been born in John's own creative mind.
Picasa has long been the ultimate source for upcoming Android devices leaks
, as the photos taken with prototypes during testing, can get automatically uploaded to your public account.
One Google Switzerland employee, John Mueller, has inadvertently posted yesterday morning some photos of kids jumping in the snow in swimsuit, having fun with the cold weather front that is raging over Western Europe.
The thing is that the EXIF data shows the device to be named
Samsung Nexus 3
, and the samples are taken in 3MP resolution. Now we know with a great deal of certainty that the flagship Nexus device this year is shaping up to be the
LG Nexus 4
, and it should have even been announced today, if
one storm called Sandy didn't mess with the even
t.