Hurricane Sandy: apps and tips
10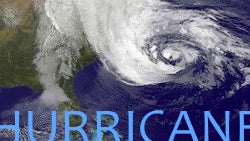 Hurricane Sandy
is approaching the north-eastern U.S. shores threatening to hit states from Virginia to the south up to Massachusetts in the north, and storm its way into Pennsylvania before starting to die down. What makes it particularly dangerous is the fact that not only it is a category 1 hurricane, but as it heads north it will combine with a winter storm from the west. Experts have named this "perfect storm" as such conditions last occurred in New England nearly thirty years ago.
Making matters worse, Hurricane Sandy combines with full moon and this means that tidal forces will be at their strongest. It's also a slow storm and once it hits, it will linger on for about 24 hours. It's expected to reach the U.S. shores around Monday evening, so you still have time to prepare and we strongly advise you to do so.
Here a couple of advices for what you can do in terms of communications.
First, make sure your electronics are
fully charged up
. Get a spare charger, an extra battery (if your phone allows you to easily swap batteries, that'd be perfect).
Next, take a quick look at our
battery life tips
that should give you a hint at how to make the most use of that battery in case of a power outage. Keeping brightness as low as possible is the best thing you can do.
If you are in New York,
sign up for Notify NYC
. The city's 311 system will send out text messages and voice alerts. You can also follow the system on Twitter at @NotifyNYC.
Finally, get that
good old feature phone
out of its hiding grounds deep in some drawer and charge it up. While you may flaunt your brand new iPhone, Android or Windows Phone to your friends, its battery simply won't last in the worst case scenario of a longer power outage.
We have also prepared a few essential apps for you to track the hurricane straight from your phone. But most importantly - don't underestimate this storm, meteorologists are calling it unprecedented in many ways, take precautions, evacuate if you are in the danger zone and stay safe!
Missing closing tag TEXT