Samsung Mobile to freeze the salaries of its employees, blame the plummeting profits
77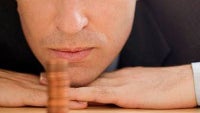 With retail profits slipping away for a third consecutive quarter, Samsung is reportedly trying to cut down losses by freezing the salaries of its employees in 2015. This is one of the harsher moves that the South Korean top dog is seemingly about to undertake.
That piece of news is coming from an unnamed Samsung official, which claimed that
"the management and employees have reached an agreement on fixing wages"
.
Another Samsung representative later claimed that the exact reason for this unpopular decision is the slow rate at which China's economy is growing of late, combined with the weaker position of the Japanese Yen.
Apparently, this will be the first time Samsung has hard-fixed salaries since 2009. Certainly, the company is swearing by the upcoming Galaxy S6 and S6 Edge, hoping that they'll sell better than the Galaxy S5 and will mark the the turning of the tides for Samsung.