Samsung loses some grip: fourth quarter profits down 27%
32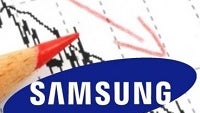 Samsung's mobile division has seen a rather dramatic decrease in profitability over the past year, as the company announced its fiscal fourth-quarter earnings. Overall, the conglomerate has seen a third straight quarterly decline in profits, with its mobile division operating profits declining 64% during the past 9 months. Profit for the quarter was $4.9 billion.
What has been seen as a nearly unstoppable force in marketing along with massive product placement and production, has seen fierce competition. The competition has resulted in declining visibility in China, but most notably Apple, whose new iPhones are proving a big hit, has made the biggest inroads, bestowing Cupertino with
history-making profits on record sales
of the pair of flagships.
It has not just been Apple eating Samsung's lunch, Xiaomi, Lenovo, and Huawei have been circling in the water as well, and that has caused the Korean concern's standing in China to falter, losing a significant amount of market share in China, down to 9% from 17% in a year.
Despite the carnage, Samsung's mobile unit still eked out a 7.5% profit margin on sales of 95 million handsets, of which, about 75-80% were smartphones. Those are respectable numbers for a company that size, but it is probably safe to say that the days of 20% profit margins are long gone.
What cannot be ignored is that Samsung is likely pinning a new strategy in making a bigger market for its mobile chip division, a unit that has not been making as much money as the company would like. It is entirely possible that Samsung has been pondering the writing on the wall as it relates to the mobile device environment, and has been working on a shift in gears to pick up the slack.
The numbers were all in line with estimates and guidance from the company and industry analysts, but with the expected big push, one has to wonder if the
hub-bub over the Qualcomm Snapdragon 810 CPU
is really
about heat
.
source:
The Wall Street Journal