Phone sizes grew drastically in a year, are you tired of 6-inchers?
58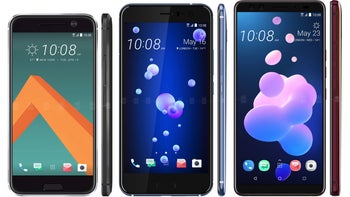 In a breath of fresh air, Korean media reported recently that Samsung may break the Galaxy S-line mold, and introduce
three S10 versions
, and one may be a basic model with flat display closer to the 5" range. One might be a cynic and say that's exactly mimicking Apple's strategy with
three 2018 iPhones
primed for release, but if these rumors hold water in the end, Samsung may have a veritable hit on its hands.
Look around, do you see any popular compact Androids released in the last year or so? It's a 5.7-incher next to a 6-incher next to a 6"+ behemoth. No amount of bezel-cutting, notch-ing or
camera-popping
can hide the fact that most flagships released since last spring are hovering around the 6" screen diagonal mark. Granted, the switch to an 18:9 aspect ratio (or thereabouts) makes them more palpable to use than the 16:9 units of yesteryear, but, please, can one get a break from huge phones? Here's a little statistic for you - screen sizes for popular phones from some best-selling Android brands issued 2016-2018.
| | 2016 | 2017 | 2018 |
| --- | --- | --- | --- |
| Samsung | 5.1" (S7) | 5.8" (S8) | 6.3" (S9+) |
| LG | 5.3" (G5) | 5.7" (G6) | 6.1" (G7) |
| Huawei | 5.2" (P9) | 5.1" (P10) | 5.8" (P20) |
| Xiaomi | 5.2" (Mi 5) | 5.2" (Mi 6) | 6.2" (Mi 8) |
| Sony | 5.2" (Xperia XZ) | - | 5.7" (Xperia XZ2) |
| HTC | 5.2" (HTC 10) | 5.5" (U11) | 6" (U12+) |
| Motorola | 5.5" (Moto Z Play) | 5.5" (Moto Z2 Play) | 6" (Moto Z3 Play) |
| Vivo | 5.5" (V5) | 5.7" (V7) | 6.3" (V9) |
| Google | 5.5" (Pixel XL) | 6" (Pixel 2 XL) | 6.2" (Pixel 3 XL est.) |
Quick calculation pegs the increase in the average screen size of the devices listed to go from 5.25" in 2016 to 5.46" in 2017. That's a 4% increase which is in line with the norms in previous years. From 2017 to this year, however, the models grew to the whopping 6.05 inches on average for the popular 2018 models above. That's 11% increase in screen sizes for the last year or so and has never happened before.
Granted, some of the humongous diagonals' footprint is offset by the move to a taller and narrower aspect ratio, but looking at the phones' dimensions, we can easily see that the growth between 2016 and 2018 is gigantic. There is barely a handset that fits well in the palm and can be comfortably operated with one hand anymore, and the trend is moving downmarket as well - the most popular Redmi line of Xiaomi that sells millions upon millions went from 5-inchers straight to 6-inchers, for instance, and, despite the bezel trimming or the narrower aspect ratio, the resulting models are still way larger than their predecessors.
That is why we were curious to take your opinion on this trend that nobody asked us about, of huge 6-inchers that are in most of the cases uncomfortable to carry and operate. Heck, Apple is going to do the same with this year's iPhones, rumored to start from 5.8 inches, while the
largest iPhone ever
is said to land at 6.4", and Samsung may have an answer to it with a 6.4" S10+ of its own. Where's that going to end? You probably understand why are we rooting for a rumored basic S10 with a smaller flat screen now, so take your pick, and sound off in the comments.