Samsung Jasper leaks again, headed to Verizon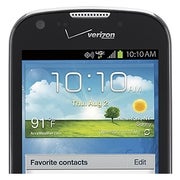 Supposedly legitimate photos of the Samsung Jasper, which was previously
spotted at the FCC
and in
benchmark results
, have leaked on Twitter, making the smartphone's release on Verizon seem imminent. The tipster who provided the shots posted some of the smartphone's hardware specs as well, and although they don't come near those of the
Samsung Galaxy S III
, for example, the handset might be a keeper, if priced accordingly.
It is rumored that the Samsung Jasper is equipped with a dual-core Snapdragon S4 processor
– the MSM8960 clocked at 1.5GHz. The presence of a 4G LTE logo suggests that it will run on Verizon's speedy cellular network for fast mobile internet access. Now prepare for your initially positive impression to be crushed after we tell you that its display has a resolution of 480 by 800 pixels, which is nothing impressive by today's standards. There is no LED flash on the smartphone's back, meaning that its camera likely won't be a huge selling point.
advanced features
omitted from the set. Interestingly, there are four capacitive buttons underneath the screen, with the fourth one presumably acting as a "Menu" key, although that is just a guess and its actual purpose might differ.
That is all we know so far, and we can only wonder how much the Samsung Jasper might cost. Its release date is also a mystery, although an announcement will likely come sooner than later, given how long rumors about the device have been circulating.