Samsung Galaxy Tab S4 hands-on: thin bezels, quad speakers, and a super-wide screen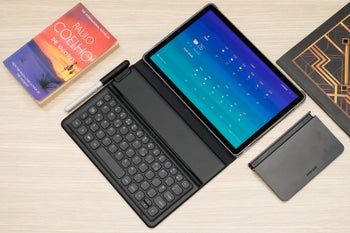 We got some quality time with the tablet and are ready to share our hands-on impressions. Let's check it out!
2018 design
Flagship smartphones have been doing the 18:9 display aspect ratio and thin bezels since 2017. It was only a matter of time before tablets got the upgrade. And here it is — the
Galaxy Tab S4
has an extra-wide screen with a somewhat thin bezel around it. We appreciate that it still leaves ample room for gripping the device without accidentally touching the screen.
The frame is still made out of metal and the back has a glass panel of its own. No, there's no
wireless charging
, it's just glass for the sake of it as far as we can tell. Though there is a proprietary 4-dot connector on the side of the tablet, which is meant for various Samsung accessories to link with the device. It looks quite nice, sure, but we are not sure about the weight and the sticky fingerprint feel.
On the front, we have a 10.5-inch 2560 x 1600 (WQXGA), gorgeous-looking Super AMOLED screen. No surprises there, Sammy has been on top of the AMOLED game for years now and the Tab S4's screen looks as beautiful as expected.
Here's the kicker — there's absolutely no fingerprint scanner anywhere on the device. Instead, the Galaxy Tab S4 relies solely on the iris scanner for biometrics. Of course, it also includes Samsung's "Intelligent Scan", which uses both iris and facial-recognition in combination for a more secure lock.
The whole unlocking ordeal is actually pretty fast and painless, really. Though, unlocking the tablet when it's placed in a landscape position requires one to lean towards the side of the tablet, which can be weird. We will continue playing around with this and post final impressions on how this mechanism works in our full review.
Multimedia and productivity in a tiny package
The Samsung Galaxy Tab S4 greeted us with a quad speaker setup and a "Tuned by AKG" logo on the back. We were quite eager to test these bad boys out. First impressions are mixed, though. The speakers definitely sound full but are not as loud as we hoped and seem to be lacking in bass. Stereo separation, however, is delightfully good and would make for good immersion when enjoying a movie or a game on the tablet. It's a definite above-average speaker setup, but we need to spend more time with it for a final verdict.
Now for the big one — the Galaxy Tab S4 supports DeX mode (Samsung's full desktop experience) without the need for a DeX Station or an external monitor. When we
reviewed the DeX Pad
back in May, we noted that the desktop experience it provides is pretty good, but that the fact that it needs a monitor and power outlets severely bogs down its usefulness.
Upon launching DeX Mode on the Tab S4, we are greeted by the same work environment we saw with our previous tests of DeX, so this looks quite promising. According to preliminary information, you can still use an external monitor with DeX and have the tablet work as a secondary screen. We will be testing this further for sure!
Accessories maketh product
Just like its predecessor, the Galaxy Tab S4 comes with an S Pen in the box. That Samsung's proprietary stylus, powered by Wacom technology. It's accurate, quick, has built-in palm rejection, and is among the best-working styluses out there on the market.
Next up is Samsung's own Book Cover Keyboard case. This one is, unfortunately, sold separately. We did get to try it out as well — its keys have a decent amount of travel to them and a nice click. We could definitely see ourselves getting used to it and will be testing it further for our full review. The Book Cover also has an S Pen holder on its side, so you don't lose that coveted stylus.
There's one more accessory for the Galaxy Tab S4 that will be sold separately — the "Charging Dock Pogo". It's basically a charging stand, which will hold your tablet in a landscape position — it clicks in the 4-dot connector on the side. It's meant as an easy-in, easy-out charging solution, which also allows you to view content while the Tab S4 is getting its juice.
Yes, it has cameras
Whether or not you need a good camera on a tablet has been a debate for a while. Few people out there will take their 10-inch mobile device out of the house and even fewer will use it to capture memorabilia. But hey — you do need a front-facing camera for video chats and a main camera is always nice to have whenever you want to share a snap of whatever you are looking at. Yes, even on a tablet.
Galaxy S9
when we get the chance.
Expectations
All in all, the Samsung Galaxy Tab S4 seems to be a pretty solid tablet. Some might be a bit disappointed in the hardware that powers it — it's got last year's Snapdragon 835 instead of the contemporary Snapdragon 845 — but if that helps Sammy keep its price down, we'd be all for it. For what we see, it runs and feels quite well, it has integrated desktop experience, which works fine, a brilliant screen, and speakers that are better than most tablets out there.
Of course, we are still eager to find out what the final price would be. Also, stay tuned for our full review!