Samsung Galaxy Tab S4 price and release date
8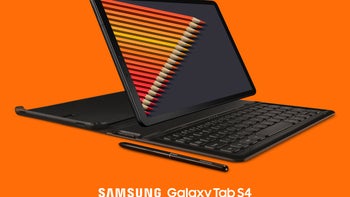 Earlier today, Samsung announced the Galaxy Tab S4 - its newest high-end Android tablet. Similar to its predecessor (Galaxy Tab S3 from 2017), the Samsung Galaxy Tab S4 comes with an S Pen stylus in the box, thus offering functionalities that regular tablets simply don't have.
True to its high-end nature, the Galaxy Tab S4 is not cheap. You'll have to pay $649.99 for the Wi-Fi-only model with 64 GB of storage space, or $749.99 for the Wi-Fi-only 256 GB model. These prices include an S Pen, but not a keyboard cover. However, if you reserve the Galaxy Tab S4 on Samsung's official website (see the source link below), you will be able to buy a keyboard cover at half the price - $74.99 instead of $149.99.
A Verizon LTE-enabled Galaxy Tab S4 is also available for reservation. While its price is currently unknown, we're pretty sure that this will be more expensive than the Wi-Fi-only versions. Reservations can be made only before August 10 - this appears to be the US release date of the Tab S4. After that day, you'll have 72 hours to complete your purchase (and you won't be charged until you do so).
Compared to the Tab S3, the Galaxy Tab S4 looks better, benefiting from a modern design with relatively thin bezels around its 10.5-inch, 1600 x 2560 pixels Super AMOLED display. The new tablet is unsurprisingly more powerful, too, thanks to a Snapdragon 835 processor (which is superior to the Snapdragon 820 found inside the Tab S3). You can take a closer look at the new slate in our Samsung Galaxy Tab S4 hands-on.
source: Samsung