Samsung to demo a 4.5" flexible AMOLED display and a 14" transparent one
3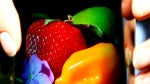 The FPD International display expo is fast approaching, and Samsung is expected to showcase the latest and greatest of its display technologies. Besides the 7" Super AMOLED screen
we wrote about
, the Koreans are poised to showcase an on-cell 3D WVGA LCD Display, a 14-inch transparent display, and a 4.5" flexible AMOLED screen, among others.
Photos are already trickling down of the flexible screen - unlike the previous 240x400 pixels attempts, this one sports a quite decent 480x800 resolution. Samsung says that ghosting is almost negligible on the flexible display with 0.4" (1cm) radius. The screen has a quick response time, low power consumption, and a thin profile. The usual rigid glass substrate is swapped for a special plastic one, with some of the technology coming from the Galaxy S's screen. The existing plastic substrates melt at 350-400 degrees, so no circuitry could be implemented in them.
Very exciting times, and we can't wait for Samsung to show the transparent and 3D displays as well, in a few days.
via
SamsungHub
Recommended Stories