Samsung Galaxy Tab 2 (7.0) Hands-on Review
2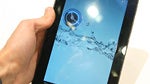 Here it is, folks - the
Samsung Galaxy Tab 2 (7.0)
. Looks familiar, doesn't it? Well, that is because the tablet bears a very close resemblance to the Samsung Galaxy Tab 7.0 Plus. We aren't exactly sure why Samsung has decided to release two devices so similar to each another, but let's disregard this fact for a second and get up close and personal with the Galaxy Tab 2 (7.0).
The Samsung Galaxy Tab 2 (7.0) feels nice and compact in the hand. Its slim body is constructed out of plastic, which is why it does not feel like a premium device, but thankfully, it does not feel cheap either. Overall, the tablet's design does not stand out in any way, but we can live with it the way it is. On its front we see a 7-inch PLS LCD display with a resolution of 600 by 1024 pixels. Again, nothing out of the ordinary, but it looks quite okay and gets the job done.
The
1Ghz dual-core processor
that powers the Samsung Galaxy Tab 2 (7.0) handles Android 4.0 Ice Cream Sandwich without much effort and delivers a smooth performance overall. It is nice seeing that the TouchWiz user interface has not altered the look of Android 4.0 significantly, and the addition of a handful of new widgets and apps is more than welcome.
And that pretty much sums it all up. The Samsung Galaxy Tab 2 (7.0) is just an ordinary tablet that does not deliver much on the hardware front. Hopefully, it will come with a reasonable price tag once it hits the market.