Samsung Galaxy Tab 10.1 hands-on at MWC 2011
9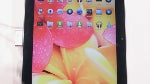 When we got to play with the
Samsung Galaxy Tab 10.1
, we immediately realized how
well-sized
it is for a 10" tablet. The bezel around the screen is just enough to have a comfortable grip, but not too wide to make the slate look unwieldy.
At
0.42"
(10.9mm) it is thinner than many a smartphone we know, and not only from its predecessor, but way thinner than its direct competitor, the
Motorola XOOM
, and also way lighter at
21.13oz
(599 g), against the 25.75oz (730 g) for Motorola's baby. The light weight is mostly because of the choice of materials, since the Galaxy Tab 10.1 is entirely plastic, both the back, and the front bezel.
The screen of 800x1280 pixels looked
bright
, with very good viewing angles, but we are not sure if this is the
PLS LCD
technology that
might go in the next iPads
, most likely it is not ready yet, but the screen is very good nonetheless. What about Super AMOLED, you'd ask? Samsung is
nowhere near
mass production of 7" and larger AMOLED screens, which will kick in full gear later this year.
The back, albeit plastic, earns our approval, because it has a nice grip pattern to it, and is mostly flat except where it counts when holding it, thus avoiding rocking the tablet when typing on it on a flat surface (nudge, wink, iPad). The back hosts an
8MP
camera, a first in a tablet, which not only looks suspiciously like the one on the
Samsung Galaxy S II
and the
Infuse 4G
, but shoots Full HD 1080p video at 30fps just like them too, if you are so inclined.
Sammy went with a Tegra 2 chipset here, and it makes sense - why bother jumping through the Google hoops until its own
dual-core Exynos
chipset is approved for
Honeycomb
, when Tegra 2 has already done that as a reference platform. NVIDIA Tegra 2 does 24fps video capture in Full HD mode, as opposed to the 30fps Exynos allows, but somehow we doubt you'll be using the Samsung Galaxy Tab 10.1 extensively for 1080p video sessions anyway.
The tablet-oriented Android 3.0 Honeycomb is in a league of its own when it comes to slate interfaces, with extensive use of multiple panes throughout, which makes your life easier. The Samsung Galaxy Tab 10.1 runs stock Honeycomb, nothing TouchWiz-y on it, which is a good decision for Samsung's second generation Android tablet.
All in all we were very pleased with the thin design, the weight, and the generous camera resolution on the Samsung Galaxy Tab 10.1 - in many ways it might turn out better than that anointed Honeycomb tablet from Motorola.