iPhone 7 catches fire, burns a car
99+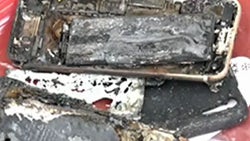 It's a fun time in smartphone land right now, after the
Note 7 fiasco
left the Android team short one player. The whole ordeal, of course, provoked onlookers to more or less react in one of two ways — some feel bad for Samsung and / or over the fact that they won't be able to own a
Galaxy Note 7
; others gloat, laugh, and point fingers. But everyone is definitely keeping an eye on Apple, waiting for a
potential fault
in the new
iPhone 7
to rear its ugly head and reset the Sammy vs Apple scoreboard.
Well, no matter which side on the fence you are, a new report of a brand-new iPhone 7 catching fire definitely sounds troubling. One Mat Jones drove down to the beach for a surfing lesson and left his 7-day-old iPhone 7 to chill in the car, covered under Mr. Jones' clothes. Upon returning to his vehicle, the surfer found it to be filled with black smoke. It was extremely hot inside and his clothes, together with a huge portion of his car's interior, had burned up. Apparently, the iPhone 7, which was resting inside the car is to blame.
The user insists that the phone hasn't been mechanically hit or dropped over the week of ownership and that only stock Apple accessories were used for charging. Apple has said that it is aware of the incident and is investigating, but hasn't commented any further.
Of course, when one says "beach, surfing, inside car", the thought of excessive outside heat does come up. But, if the iPhone was truly covered by clothes and not hit with direct sunlight, should it still go ablaze?
This is the second time we hear of an iPhone 7 spontaneously combusting, though,
the first incident
was obviously caused by heavy mechanical damage to the phone, which caused the battery to go boom. So, no reason to panic just yet, but it would be smart to wait out the investigation if you haven't bought an iPhone 7 just yet.
Recommended Stories