Samsung Galaxy S7 and S7 edge Q&A: your questions answered
21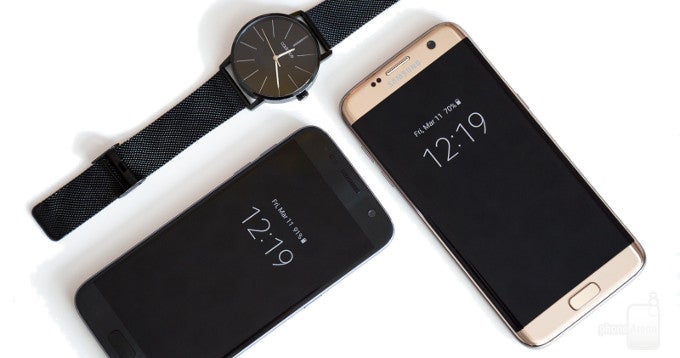 Last week, we
gave you the opportunity
to ask us anything you wanted to know about the Samsung Galaxy S7 and S7 edge. Well, it seems that you have quite a lot of questions regarding the two, many of which we have left unanswered in our reviews. Such things like display accuracy, battery life, real-life performance, and interface touch-ups have all been discussed there, but alas it seems that many of our readers have not found the information they sought in the first place. Well, fret not, dear readers, here follow most of your questions, answered:
Question from
jesus_sheep
:
"I would like to know how the phone feels in the hand."
PA:
The Galaxy S7 feels better in the hand due to several reasons. First of all, it has smaller footprint than the Galaxy S7 edge, and secondly, its curved back allows your palm to "wrap" around the phone. The lack of sharp edges also contributes to this. Don't get us wrong, the S7 edge also sits quite good in hand, but the Galaxy S7 definitely beats it in this regard.
Question from
4kMAN
: "
PA which camera sensor is better overall?? IMX or samsung sensor?"
PA:
Well, there are not that many significant and deal-breaking differences between the two camera sensors, the Samsung S5K2L1 ISOCELL and the Sony IMX260 ones. Samsung's ISOCELL sensor produces a tad warmer stills, whereas the Sony sensor tends to snap a bit sharper ones. In general, the differences are insignificant.
< Samsung sensor
Sony sensor >
Question from
hagba
: "
Does it have Screen Mirroring same as my S5 had?, connecting it to the smart tv through the same wifi.
"
PA:
Yes, it does. It's called Smart View and is accessible from the quick toggles dropdown menu.
Question from
azozovich
: "
Thinking to buy one but not sure whether to take the s7 or s7 edge? Is the edge practical and pocket friendly as they say?
"
PA:
Yes, the edge UX of the S7 edge is practical and useful to certain extent, but you will probably be fine without one either! It certainly brings a whole new "flavor" to the UI, but you can totally get by with the regular S7 as well. What's more, if you're a sucker for smaller phones that are "pocket friendly", as you put it, the Galaxy S7 is definitely the safer bet here.
Question from
turtle1992
:
"Is there any alternative like group play from samsung s4?"
PA:
No, not to our knowledge.
Question from
rick_mobile
:
"Dear PA, will the international version of the galaxy s7 work with the 4G LTE bands on tmobile?"
PA:
Yes, the Exynos version of the Galaxy S7 comes with LTE bands 1, 2, 3, 4, 5, 7, 8, 12, 17, 18, 19, 20, and 26, so it should work just fine when connected to T-Mobile's network. Have in mind that the Exynos variation of the phone is a GSM one, unlike the Snapdragon a CDMA one.
Question from
ekabon
:
"Hi guys! If I disable touchwiz launcher, will I still have access to Game Launcher app? Also, is there any word on which generation of Corning Gorilla glass is protecting s7's screen? Thank you ;)"
PA:
Yes, the Game Launcher works with other third-party launchers. We installed Nova Launcher on our Galaxy S7 and Game Launcher worked as intended, appearing as a regular app in the app drawer. And for your second question, yes, it does feature Corning's Gorilla Glass 4.
Question from
killdrak
: "
it may sound stupid but does both s7's gpu's support Vulkan api??
"
PA:
No, your question does not sound stupid at all, and yes, the Galaxy S7 and S7 edge both support the Vulkan API. Actually,
here it is in action
!
Question from
razzy
: "
Hi PhoneArena team! In basic mode is there a difference in color accuracy of the screens between the S7 and the S7 Edge? I have read a few comments stating that the Edge has a slight green cast which is visible when comparing the two models, especially on white backgrounds. Is that true?
"
PA:
According to our benchmarks, the Galaxy S7 edge is a bit more color-accurate, as well as capable of achieving higher maximum brightness than the regular Galaxy S7. However, the Galaxy S7 has a bit better gamma reproduction than its larger peer. Have in mind that we are talking about the Basic display mode's properties - the rest of Samsung's display modes are all over the place in terms of color accuracy and gamma reproduction. Back to your question - there aren't any significant differences between the displays of the two phones.
Samsung Galaxy S7, S7 edge display measurements and quality
Question from
NIK01
: "Is S7 brighter than S6? Some tests say Yes, some tests say No."
PA:
Well, our tests say that the Galaxy S7
does not
achieve higher maximum brightness than the Galaxy S6. The Galaxy S7 clocked in at 484 nits in our display test, whereas the S6 hit 563 nits.
Question from
SuperAndroid17
:
"When will samsung release the white s7 and s7 edge in the north american region?"
PA:
Knowing Samsung, this probably won't happen. If you are serious about owning a white Galaxy S7 or an S7 edge, you could probably resort to third-party online retailers.
Question from
Rajan13
:
"Does Samsung s7 have multiple user modes? Like guest mode."
PA:
Unfortunately, we don't seem to have any feature of this kind on our Galaxy S7 and S7 edge units.
Question from
Arch_Fiend
: "Which S7 variant is better for gaming Sd820 or E8890?"
PA:
Neither will disappoint you, as they fair similarly. We've explored the performance topic in-depth, check out the links below!
Question from
nukeman12345
:
"Is there a way to show weather info on the lock screen for S7 edge?"
PA:
Sadly, there is no such option on board, as lockscreen widgets are gone. You could probably try a not-so elegant solution — a third-party lock screen app.