Samsung Galaxy S7: Snapdragon 820 vs Exynos 8890 flavors compared
99+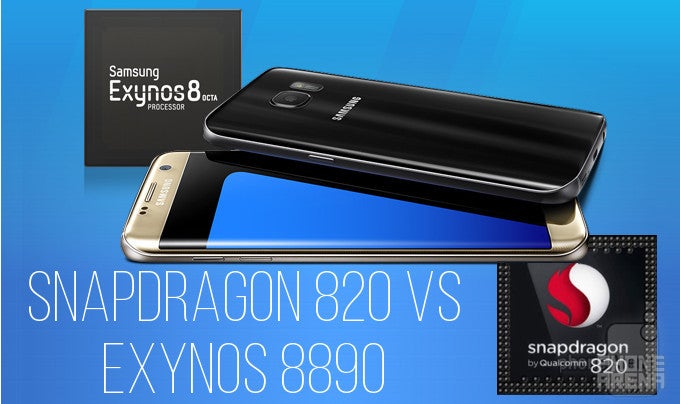 The release of the
Galaxy S6
was a watershed event for Samsung. Not only did the company prove that it can do design proper, but the phone was the culmination of what we imagine were a number of technological breakthroughs waiting to happen. Faster storage, better camera, quicker RAM... and a new home-grown processor for everybody.
For those among us that have intimate knowledge of the workings of the industry, the fact that Samsung used to mix it up when it comes to processors will be no news. Indeed, until the Galaxy S6, the South Korean conglomerate had a strong ongoing relationship with US-based Qualcomm, which supplied it with Snapdragon chipsets for the US market and a few others, while the rest of the world were treated to Samsung-made Exynos silicon. While the Galaxy S6 was only made available with an Exynos chip—mostly due to the Snapdragon 810's many shortcomings—the split is back with the new
Galaxy S7
.
So, if you live in the US, you'll be getting the quad-core Snapdragon 820 processor. If you live elsewhere, however, you'll be treated to an Exynos 8890—an octa-core chip. Here's a quick breakdown of the two system chips: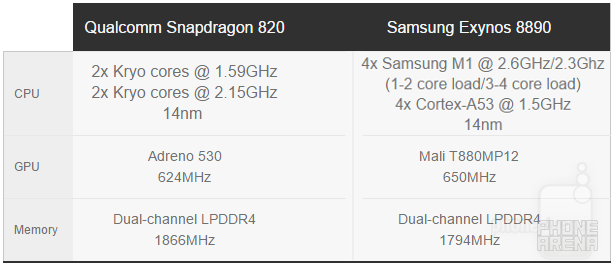 As you can see, the most important difference between the two solutions is the CPU count, with the Snapdragon 820 utilizing four of them, while the Exynos 8890 makes use of eight. As you'll see in a bit, this distinction is mostly one on paper, though the two do prove slightly better in certain tests.
This dragon sure can breathe fire!
The Snapdragon 820 won in 6 out of 9 tests, but only by a hair. The Exynos 8890 proved it's more adept at web browsing.
When you drop $700 for a phone, you expect to get the latest and greatest. And you sure as hell wouldn't like it if your friend's otherwise identical device is a better performer than yours. Which is why fans have been requesting that we run our suite of synthetic benchmarks on both the Exynos and Snapdragon 820 flavors of the Galaxy S7. Since the S7 is identical to the
Galaxy S7 edge
hardware wise, we consider the results below representative of its performance as well.
Before we get to that, however, here's a quick rundown of the methodology used. Each of the tests you see below was ran with both devices in comparable condition in terms of the number of installed apps and processes running in the background. To correct for random flukes, all tests were ran three times, with the scores that you see being the average from the runs.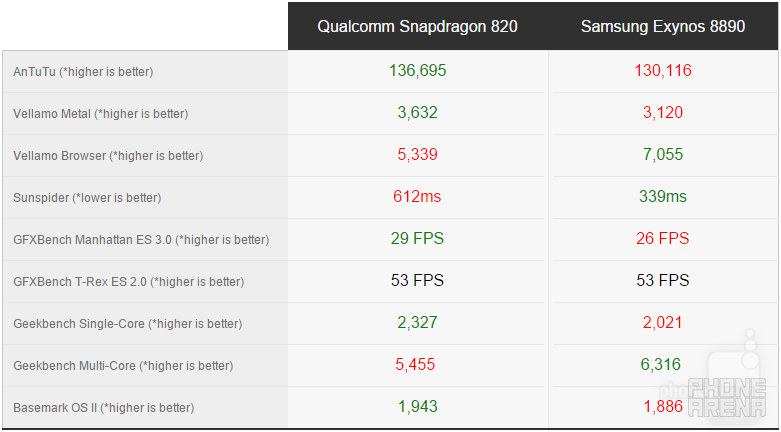 As you can see, overall the two chips are very much comparable in most cases. Still, the Exynos variant did have a tiny bit more trouble with the GPU-heavy GFXBench Manhattan test, and posted a slightly lower score. The older, more forgiving T-Rex benchmark, however, consistently returned identical scores.
That said, the Snapdragon 820 did fare notably worse when it came to browsing benchmarks, with double the score in Sunspider (lower is better). The Exynos 8890 also has a significant lead in the very comprehensive Vellamo Browser benchmark (which was developed by Qualcomm, mind you).
Finally, it's worth mentioning that both devices returned very consistent scores in all tests but one: Vellamo Metal. This has lead us to believe that something about the benchmark's design allows for a rather high variance in scores, with a delta of some 700 points between the lowest and highest scores recorded. So while the Exynos 8890 posted a notably lower score in Metal, it's worth pointing out that in its best run, it did manage 3,430 points, which makes the difference negligible.
No conclusion really needed, but here's one
We'll spell it out for you, just in case all the technical talk from those last few paragraphs sounded like alien language. In short, whether you end up with the Snapdragon 820 or Exynos 8890 flavor, it's fair to say that you can expect
very
comparable system performance. At least synthetic benchmarks agree on that. As soon as time permits, we'll be running another important test to answer another important question: are both these chips equally as power efficient, or does one allow for a notably better battery life? Hang around for the answer.
Recommended Stories